Purchasing a printer is only the first step of owning a printer. Beyond purchase, maintenance and care are essential to the lifespan of the printer. Have you never cleaned a printer? Let the number one office solutions company Greenville NC teach you how.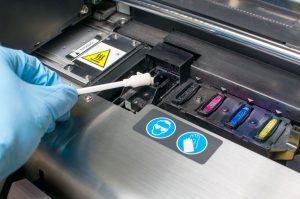 Steps to Cleaning your Inkjet Printer:
Take out the cartridge or ink-head.
Gently cleanse the printhead contacts with a bit of rubbing alcohol on a sponge swab. Alternately, dip a stiff bristle brush in rubbing alcohol and brush the contacts.
Once complete with the cleaning, run a small amount of rubbing alcohol over the head to remove any broken bristles.
Wipe any excess ink off of the nozzles.
Place the cartridge back in.
Start a print test to ensure that you removed all excess ink.
Steps to Cleaning your Laser Printer:
Turn the printer off and unplug it.
Allow the printer to cool down.
Blow any dust from around the drum and corona wire. Use canned air, air from a vacuum, or a blow dryer.
Dampen a cotton swab with rubbing alcohol.
Gently rub the swab along the corona wire to remove any built-up toner or dust that is still on the wire.
Carraway Office Solutions | Greenville NC
At Carraway Office Solutions, we are here to help you with your printer questions. When it comes to owning a printer, you want to make sure that you are taking care of it. While these steps may seem daunting, office solutions company Greenville NC ensures you that it can be easily done from home. If you are still unsure about cleaning your printer, that's no problem. Leave it to the best office solutions company Greenville NC! Contact us today with any of your questions.