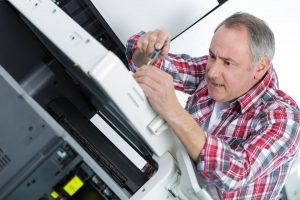 After removing your dinosaur printer and all of the cords and connectors that were attached to it, and having Carraway Office Solutions install a new Kyocera electronic copier and printer into your office space, you might be impressed with how smooth the transition was. Carraway Office Solutions offers delivery and set up for any product purchased from us, making connecting each office system a breeze. However, in the case of an emergency, knowing a few tips and tricks to troubleshoot your printer issues Greenville NC connection can be a great help.
Wifi
Since the printer is cordless or wireless, there needs to be a working network connection to connect the printer and computer together. Checking the wireless network connection for your devices is the first step in making sure both are linked to each other. If one is not connected, readd the device and see if that helps the situation. Be sure to know the password to the wifi connection, if necessary!
Software Updates
When connecting to a printer, your computer may have software that is downloaded to be compatible. Apple, Windows, and Dell products all have different connection settings and software needed to print. However, no matter what computer brand you use, making sure there isn't a software update needed can make all the difference when having printer issues Greenville NC. After checking and completing any available updates, restart your device and turn your printer off and on, and check to see if the problem is solved.
Customer Service
After making sure that all of your wireless connections are linked and working properly, and that your computer is up to date, if you're still experiencing printer issues Greenville NC, it might be time to contact the professionals. The staff at Carraway is readily available to help you in your time of need, and are just a service order or phone call away. They will talk you through the issue to see if it is something you can fix over the phone, while screen sharing through your computer, or if the issue needs a hands-on approach. Contacting Carraway's team is always acceptable if a machine is malfunctioning and can help you get back to work quickly and efficiently.
Carraway Office Solutions
Printers and technology can be stressful at times, and we want to make it easier. Local businesses have their perks, and Carraway Office Solutions offers in-home service and repairs to all our customers. Just give us a call, send us an email or stop in, and we can give you the help you need.