Many offices make the mistake of printing excessively and spending too much. This is due to the fact that most offices do not have a formal policy in place when it comes to printing or tracking usage and cost. Here are a few printing tips to manage the amount of paper in your office: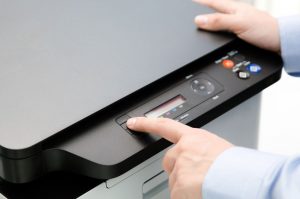 Monitor Usage
If employees know that their printer usage is being monitored, it is apparent that they will slow down their printing habits. Studies have shown that about 20% of papers that get printed are never used. Utilizing a monitoring software will allow you to see who is printing what.
Color
Sometimes, people choose to print with color just because nobody has told them not to. If the option is there, why not use it? A letter-size color document with 5% toner coverage actually costs about four times the cost of a black and white version. In an office setting, many people will print emails with color signatures as well as web pages. To solve this issue, set all printer defaults to black and white. People will then only select color if they really need it.
Digitize
Paper-intensive processes can be converted into digital documents in just a simple click. Paper hasn't dissipated just yet, but new scanning and sharing technologies have certainly made things easier. This is also less expensive and more secure than printing on paper.
Toner
Be proactive when it comes to your toner orders. It always seems to run out when you need it most. You can integrate printer monitoring software that lets you or your toner provider know when you are about to run out of toner. This allows you to reorder and have a new toner cartridge available right when you need it.
Print Policy
Create an office print policy, a simple list of rules that will help your business print smarter. This will establish an understanding among employees about their daily printing habits and what not to do.
Carraway Office Solutions
No matter what type of equipment your company uses, Carraway Office Solutions can handle all your Office Automation needs. We are totally focused on you, our customers, to ensure that your needs are always met. Find out what others have known for over 50 years: at Carraway Office Solutions, customers are our first priority. Contact us today!