The world may be shifting towards a more digital space, and there's no doubt that businesses have also adapted to this change. Official documents are going paperless today, and with the pace of technological advancements, it's becoming easier to connect with others via digital means. In such a world, the use of printers for hardcopies seems outdated as documents can be prepared and sent digitally. Despite these developments, you need to have a good printer in your office like the ones from Kyocera products for the following reasons: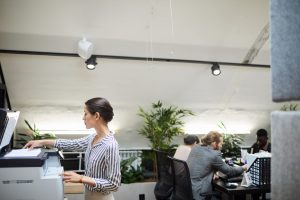 Not Everyone is Going Paperless
While you may be adapting to the digital age, many others may not. Some of your customers may find it more convenient to rely on hard copies instead of digital documents. In such cases, giving them the option of being able to benefit from hardcopies will help you reach out to them through a medium that's convenient for them. You can also reach a wider age group when you offer hardcopies, as many elderly customers may not be familiar with the digitally transmitted information.
Hardcopies Won't be Impacted by Technological Failures
Despite technological advances, there is always a possibility of a technical failure, which could negatively impact your business. If your office server fails, you could risk losing a lot of crucial data if you don't have a back-up in the form of hard copies. To avoid such situations, it's important to make use of a printer and keep hard copies of pertinent information so that you don't risk losing it in case of technological failure.
Today's Printers are Multi-Purpose
With the latest technology, today's printers like those from Kyocera products help to keep pace with changes in the office environment and facilitates communication by performing a lot more than just the printing function.
Scanning – The latest printers also allow you to scan important documents and upload them from your machine to your computer. Scanning can help to facilitate secure sending of documents, which may even be safer than email. All you have to do is put it onto a disc or upload the document onto a private server for the recipient to retrieve.
Copying – this function is also available for documents that are scanned.
Preparation of documents – some high tech printers can even aid in the preparation of important documents for you so that they're presentation-ready. With saddle stitching and stapling options available on some, you get professional-looking documents right from the comfort of your office.
The use of multi-purpose printers can help to cut down on office expenses by avoiding buying different machines for every function that can be performed by a multi-purpose printer.
You Get a Tangible Outcome
Tangible outcomes can make a lot of employees, as well as customers, feel better. While this may not apply to everyone, having the option of taking hardcopies helps to create a versatile environment in the workplace, which has the potential to cater to a wide variety of needs, whether that of customers or even employees.
If you're looking for office solutions in Greenville NC, Kyocera products are right for you. Benefit from a wide range of products offered by our printers in Greenville NC, and help to streamline your office functions today. Contact us!